Looking for condos for sale or for rent in Brian Head Town? This page is a fantastic starting place if you want the real inside scoop on Brian Head condos – because we're residents here, and we've spent insane amounts of time touring Brian Head real estate with the goal of understanding all the options in this town. We will explain to you how to find the best ski-in ski-out Brian Head condos, the best pet-friendly condos in Brian Head, and more. Here are 21 of your options for Brian Head condos:
1. Giant Steps Condominiums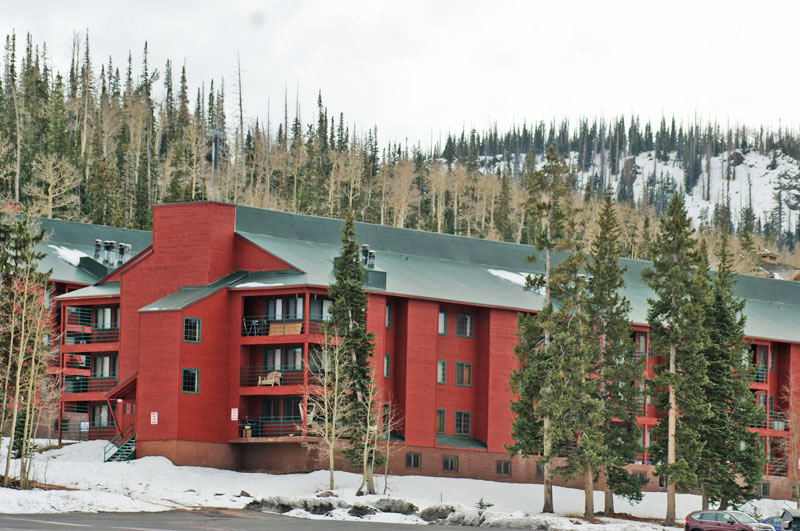 Address:
407 S. Vasels Rd
Brian Head, UT 84719
The Giant Steps complex of condominiums is remarkable for its outstanding Brian Head location and its eye-catching red buildings. It's a three-building complex that's adjacent to Giant Steps Lodge. This complex offers a total of 90 units all together. The common areas in this complex include a clubhouse with wireless internet connection, laundry facilities, 2 hot tubs, a recreation room and an outdoor barbecue and grill area.
To find Giant Steps Condominiums, you'll want to take Highway 143 into Brian Head. Make a left onto Vasels Street, which is the first street on the left past the Giant Steps Lodge.
Underground parking is available in this building, but the low clearance may make it inaccessible to taller vehicles including lifted 4x4s.
These condos are right next to the Giant Steps Lodge. If you're looking for ski-in-ski-out condos in Brian Head, definitely take a look at Giant Steps. These condos are right next to Giant Steps Lodge.
This complex offers you one of the absolute best locations on the mountain — particularly if you're an experienced skier, and good skiing is your main objective for the duration of your visit to Brian Head. The complex is located at the base of Brian Head Peak, a landmark which is definitely worth visiting when you're in the area.
In addition to being near the Giant Steps Lodge, this location puts you close to the restaurants, the General Store and the Last Chair Saloon. Giant Steps condos are a stop on the free town shuttle, and it's a quick drive from this location to the other businesses in town.
There is covered access between buildings in the complex.
Giant Steps condominiums have balconies, with the corner units being wraparound balconies.
2. The Lofts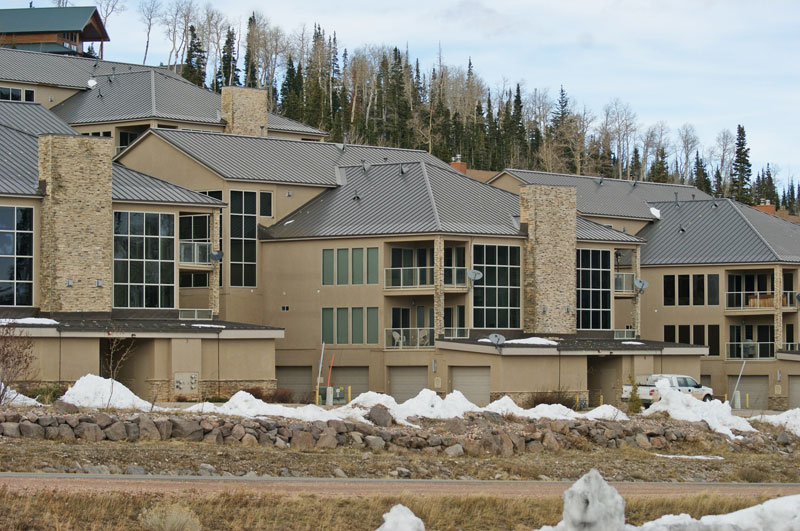 Address:
270 UT-143
Brian Head, UT 84719
These luxury condominiums are located in a prime area of Brian Head that's just across the street from Giant Steps Lodge. From the Lofts, you're within easy walking distance to the slopes and nearby amenities. If you're interested in buying or renting a property where it's easy to zip "home" for lunch between ski or snowboarding sessions, this is an excellent location to consider looking.
The outside of the Lofts might look a little nondescript, but don't let the neutral exterior fool you; these condos tend to be absolutely exquisite inside. See all those lovely windows? They're built with those windows for a reason– because there are some truly spectacular mountain views to be enjoyed from these units. Each unit has a different view, obviously — but from many of these units, it is possible to observe the ski slopes and Brian Head Peak. It is also possible from at least some of them to watch the town's fireworks displays on Fourth of July and New Year's Eve.
The Lofts come with private garages, which is not necessarily the norm for condos in Brian Head. Crime rates in Brian Head are extremely low, and there isn't much need to be concerned that your vehicle will be broken into or vandalized. BUT, if you prefer not to leave your vehicle in public-accessible parking spots, the private garages at the Lofts are a definite selling point for this particular complex over many of the other condos in Brian Head.
3. Timberbrook Village Condos
Address:
464 UT-143
Brian Head, UT 84719
Timberbrook Village is located directly off of Highway 143 in Brian Head, Utah. If you're approaching Brian Head Town from Cedar City, St. George or Las Vegas, you'll come up the mountain, pass Apple Annie's Country Store, and then make your first left into Timberbrook Village. It's right across the street from Cedar Breaks Lodge. If you need beer, liquor, groceries, snacks or souvenirs, it's a quick walk back to the Apple Annie's store. The Apple Annie's is also the location of the post office; so it's conveniently located if you want to mail postcards or souvenirs to your loved ones back home.
The Timberbrook Village complex includes 3 buildings: A building, B building and a clubhouse.
Timberbrook Village's clubhouse offers you a heated pool, jacuzzi, steam room, pool table, ping pong table, Foosball table, reading room stocked with books and laundry room. The laundry room has coin-operated facilities that are sufficiently large to accommodate dirty clothes but not oversized blankets.
Cable TV is included in your HOA fees (or your rental fees, if you're renting a condo at Timberbrook). Channels include the Disney Channel and Tour TV, the Brian Head TV Channel — Channel 8-4 on the South Central Communications cable network.
There is no lifeguard on duty in the pool area, so please plan to supervise your children carefully. Yes, Timberbrook Village is kid-friendly. Please feel free to bring your kids unless the vacation rental you're looking at directs you otherwise (because some of the property owners here might have decided on an individual basis that they do not want to rent to people with kids. However, that is not the norm in this complex — many of the owners here welcome parents and their kids as renters).
At least 3 of the condo owners in this complex have kids ranging from newborn babies to teenagers. If you bring your kids with you, they are likely to find playmates here at Timberbrook — although of course there are no guarantees that kids will be around at the exact time of your visit. Kids MUST be potty trained to be allowed to use the pool; absolutely no diapers or swim diapers are allowed in the pool.
In the summertime, you'll enjoy having access to a volleyball court and two picnic areas. One of the picnic areas is on the patio beside the clubhouse. The other is near the volleyball court. In the wintertime, these areas are typically buried under snow.
One of the main selling points for Timberbrook Village condos in Brian Head: This is one of the condo complexes that offers its residents underground parking. A and B buildings both offer parking on the ground floor. When you own or rent a condo here, you're allowed to park ONE vehicle in the building. Management is allowed and encouraged to tow vehicles in violation of this rule. Parking is unassigned and is available on a first-come, first-served basis. Because of the availability of underground parking, if you're interested in driving a car when you visit Brian Head, Timberbrook Village is definitely one of your top choices to consider.
Miscellaneous tip: Whether or not you choose to Stay in Timberbrook Village, you'll DEFINITELY want to ensure you bring an ice scraper with you if you drive here in a vehicle, whether it's you're own or a rental car. I suggest getting a deluxe scraper that has a brush on one side and an ice scraper on the other side. If you can't find one in your area (Socal and Vegas peeps, I'm looking at you) you can buy one on Amazon before you leave home, or you can pick one up in Cedar City before you drive up the mountain. The Cedar City Walmart typically stocks them for cheap during the winter months. Trust me — bringing an ice scraper with you will save you a TON of grief and possibly an accident too. You're welcome!
All the units in Timberbrook Village have full kitchens with refrigerator, stove and sink. They also originally came stock with dishwashers and microwave ovens, so you're likely to enjoy those amenities too. The majority of the property owners here have stocked the kitchens in their rental units with dishes, pots, pans, kitchen gadgets and utensils for you to use during your visit. But if these things are important to you, I suggest checking the vacation rental listing to be sure of what, exactly, will be available to you in the specific unit you'll be renting.
Timberbrook Village condos in Brian Head have fireplaces. Some units have wood-burning fireplaces and some have gas fireplaces.
Each unit has at least one small balcony. Some corner units have larger balconies that extend around the corners and may have two entrances. First floor balconies might be unusable or inaccessible during parts of the winter due to snowdrifts. This situation is not unique to Timberbrook Village; it can be an issue for virtually every first-floor deck and balcony in Brian Head.
Timberbrook Village condos range in size and square footage from studios to multi-bedroom units. The third-floor condos in Timberbrook Village typically have loft bedrooms.
Each unit comes with a separate storage closet located in the hallway. These closets are ideal for storing skis or snowboards so they don't clutter your living space inside the condo. If you're renting a unit in Timberbrook Village, this closet might or might not be accessible to you for use during your stay; be sure to check with your contact at the vacation rental facility for complete details.
Free WIFI is available in all 3 buildings for owners and their guests to use for checking email and light web surfing. However, prepare to be frustrated if you attempt to stream movies using the WIFI at Timberbrook condos, particularly if you visit during crowded weekends or holidays when bandwidth usage in the complex is high.
Timberbrook Village IS pet friendly for owners but NOT pet-friendly for renters. If you are planning a short-term trip to Brian Head, please do not rent a condo here with the expectation of bringing your pets. If you're planning to move to Brian Head, feel free to bring your dogs, cats, birds, ferrets or any other pets you might want to bring with you.
Timberbrook Village is a stop on the free Brian Head Shuttle service, which is active during the winter ski season.
Timberbrook Village is not what you want if ski-in-ski-out Brian Head condos are your top priority. Theoretically, it could be possible to get to Navajo Lodge from Timberbrook on skis — but in practice, it is not practical, and it definitely wouldn't be much fun. If you're staying in Timberbrook Village, I recommend driving or taking the shuttle rather than attempting to ski in to the resort.
Timberbrook Village is a smoke free complex, and the homeowners' association does make every attempt to enforce the nonsmoking policy. Even smoking on the balconies is considered taboo, because smoke easily drifts back into nearby units. If you smoke, please do yourself a big favor and buy or rent a unit somewhere else that is friendlier to your habit.
One more important thing to know about Timberbrook Village: The property manager lives on site, and he is actually an owner of one of the units in the complex. What that means: The property is well taken care of and mostly well maintained. That's actually a recent development. You can disregard older reviews you might find around the internet regarding negligent property management at Timberbrook Village. That has definitely been a problem in the past, but it is not currently an issue.
4. Copper Chase Condominiums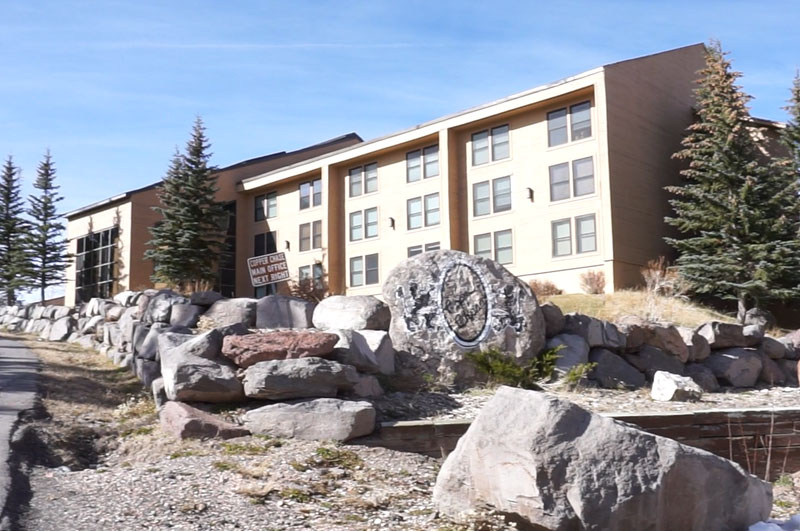 Address:
150 Ridgeview St
Brian Head, UT 84719


To find Copper Chase condominiums, take Highway 143 to Brian Head. After you pass Brian Head Town Hall on your left hand side, make the first right on Ridgeview Street. You'll have to drive up the hill a short distance. Copper Chase will be on your right hand side. There are two possibilities for driveways to turn into. If you want to make use of the underground parking facility, turn into the first driveway. If you want to check out the clubhouse, turn into the second driveway.
Copper Chase is a two-building complex, but the buildings are connected. This enables easy access to the amenities without going outside.
Residents and renters at Copper Chase can easily ski into Navajo Lodge from their condos. It is, however, difficult to ski back in the other direction when you're ready to return to your condo. That's not such a big deal, because Copper Chase is a stop on the free Brian Head shuttle. So after you've skied into the lodge and enjoyed your day on the slopes, you can easily catch a free ride back to your condo at Copper Chase by hopping on the shuttle. There is ample room on the shuttles to take your skis, snowboards and other gear.
It's a quick walk from Copper Chase to the General Store and restaurants in Brian Head.
The clubhouse at Copper Chase has a fitness room, pool and jacuzzi. There is no lifeguard on duty.
Some of the units at Copper Chase are pet friendly. Be sure to check specific vacation rental listings for additional details about whether or not pets are allowed in the unit you're interested in renting.
Copper Chase is a smoke-free environment, and the word on the street is that the no smoking rule is strictly enforced.
5. Chalet Village Condos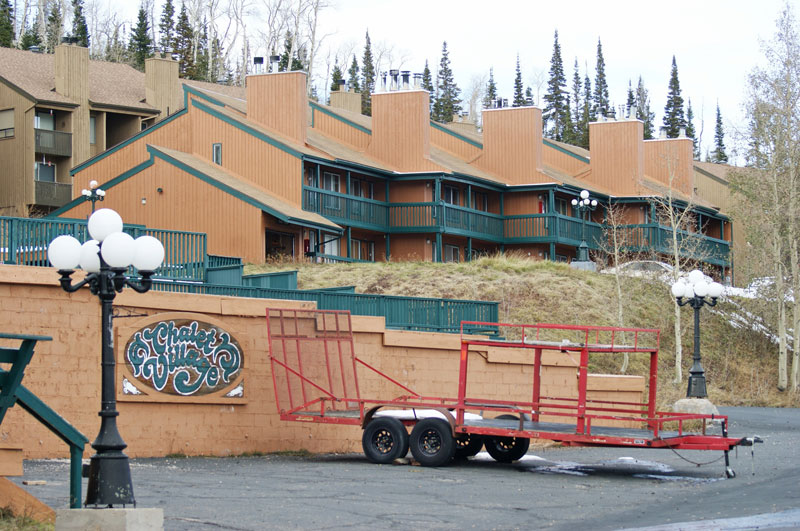 Address:
226 UT-143
Brian Head, UT 84719


The condos at Chalet Village offer appealing amenities including cozy fireplaces and either a kitchen or kitchenette for preparing meals and snacks.
There's a swimming pool and picnic area with barbecue that summertime visitors can look forward to enjoying.
Children are typically welcome at Chalet Village; but if you're bringing kids, be sure to check on this before booking if you plan to rent any particular condo in the complex.
You can usually find pet friendly rental accommodations at Chalet Village. Each owner sets different rules for their properties — so, again, if you want to bring a pet with you when you visit Brian Head, be sure to check on the pet policy before you book.
Laundry facilities are available on the premises.
Some, but not all, of the units in this complex have garages.
6. Edelweiss Condos
Address:
651 South Snowflake Lane
Brian Head, UT 84719
The Edelweiss condos are located near the fire station on Vassels Road, just past Bristlecone Park on the right hand side.
Sometimes the ads for the condos in this development will advertise these properties as ski-in-ski-out to both Navajo and Giant Steps Lodges. Allow us to clarify how this is possible. These units are close to chair #8, which is located right beside the Edelweiss parking lot. These condos are also located close to Wildflower Lift #1. The lifts are all connected, so from there you can easily get to whichever other lift you want to, and also to both lodges.
Edelweiss condos are also within close walking distance of Bristlecone Pond, which is stocked with fish for recreational fishing. There is also a boat ramp, so feel free to bring your small vessels in the summer months for a day of fun at the pond.
The HOA dues at Edelweiss include bunches of attractive amenities including cable TV, internet and firewood.
7. Black Diamond Condos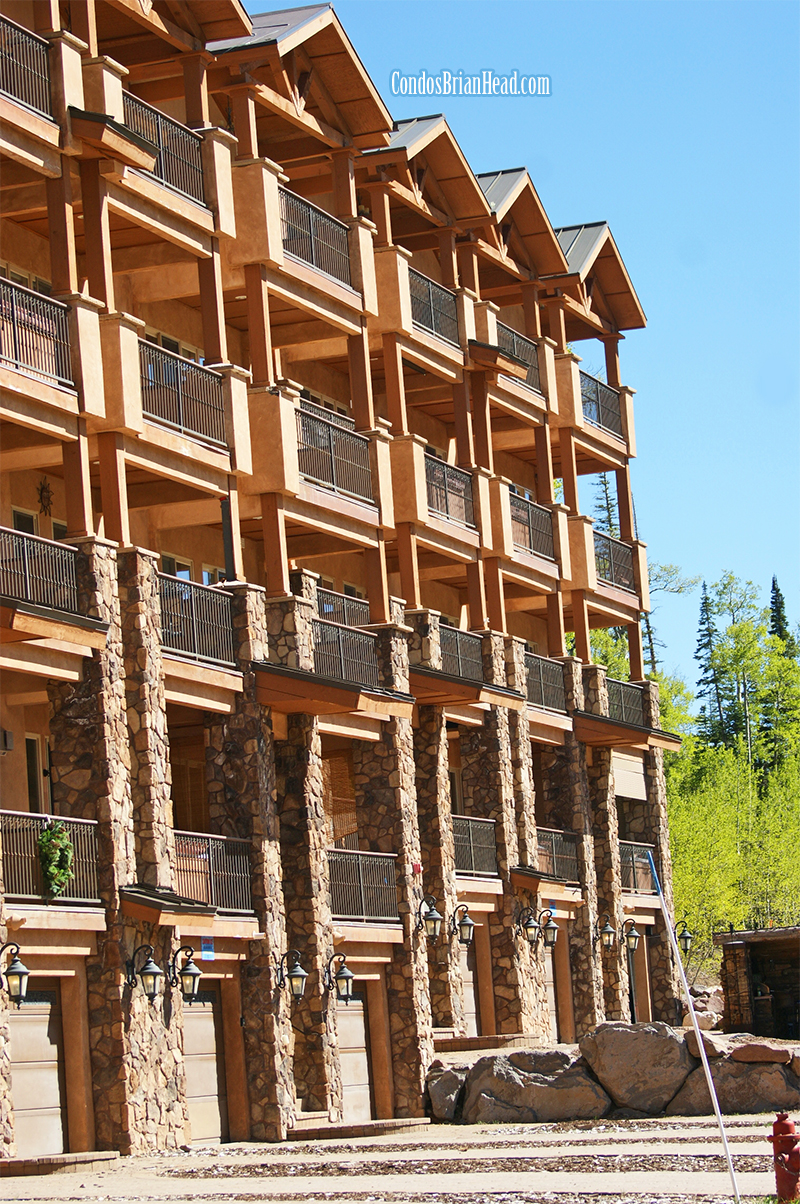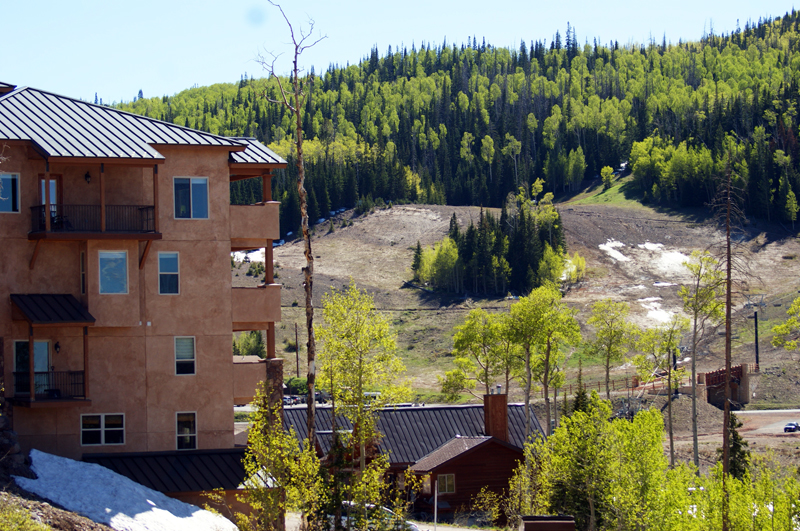 Address:
275 N Loop Rd
Brian Head, UT 84719


If you're looking for newly built condos in Brian Head, Utah, the Black Diamond complex offers options to consider. These condos offer a variety of appealing features including private laundry facilities in each unit, private, attached garages, private decks with hot tubs available, high speed internet access, digital cable and soundproofing.
There's a new Black Diamond building project that the developers are hoping to have ready by Christmas 2019.
8. The Villas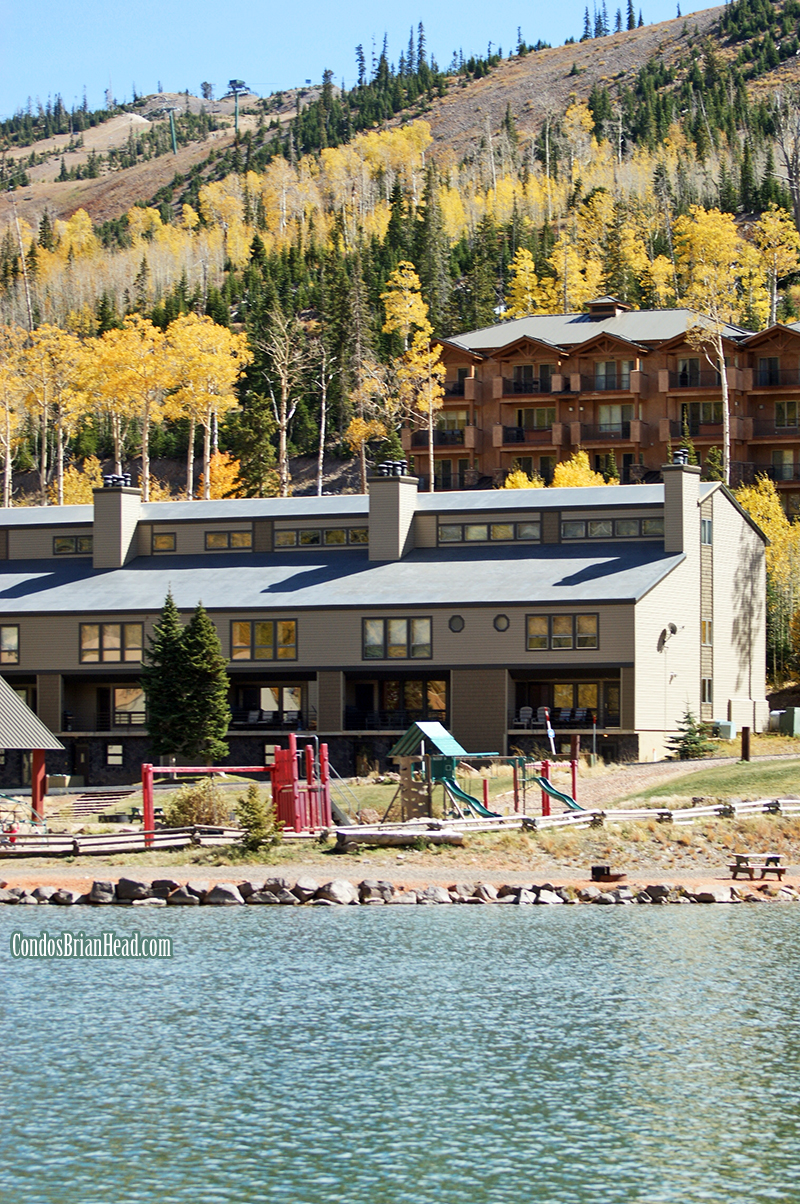 Address:
487 S Vasels Rd
Brian Head, UT 84719


The Villas are located across from Bristlecone Park, near the fire station, in Brian Head, Utah. This is an excellent location close to many of Brian Head's best amenities.
9. Snowshoe Village Condos
235 E. Snow Shoe
Brian Head, UT 84719


The Snowshoe Condos are located in a prime location in Brian Head Town. It's possible to ski in and ski out from this location, with easy access to chairs 4 and 6. These condos are within close walking distance to Brian Head's Navajo Lodge, and it's also a quick trip to Giant Steps Lodge from Snowshoe. You enter the Snowshoe condos via a long driveway — and the bottom of the driveway is a stop on the free shuttle route, which takes you to all the major points of interest in Brian Head.
10. Pine Tree Condominiums
Address:
226 N. Pine Tree Way
Brian Head, UT 84719

11. Southview Condominiums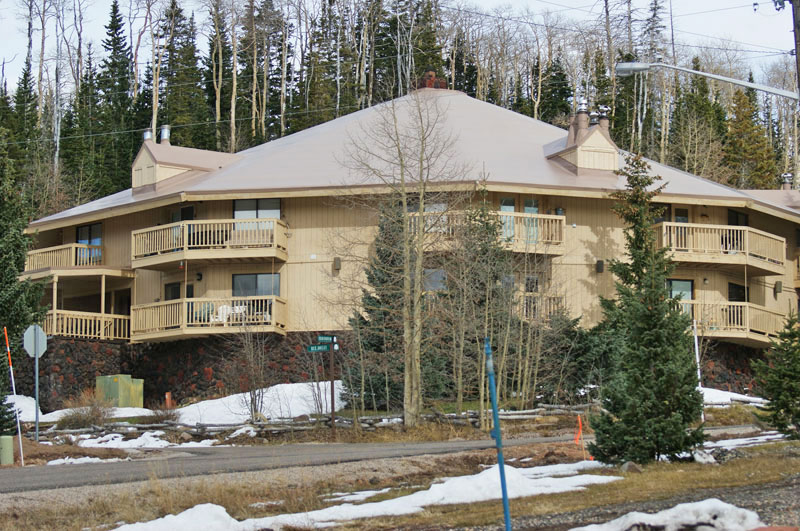 Address:
89 E Steam Engine Drive
Brian Head, UT 84719
11. Timbernest Condominiums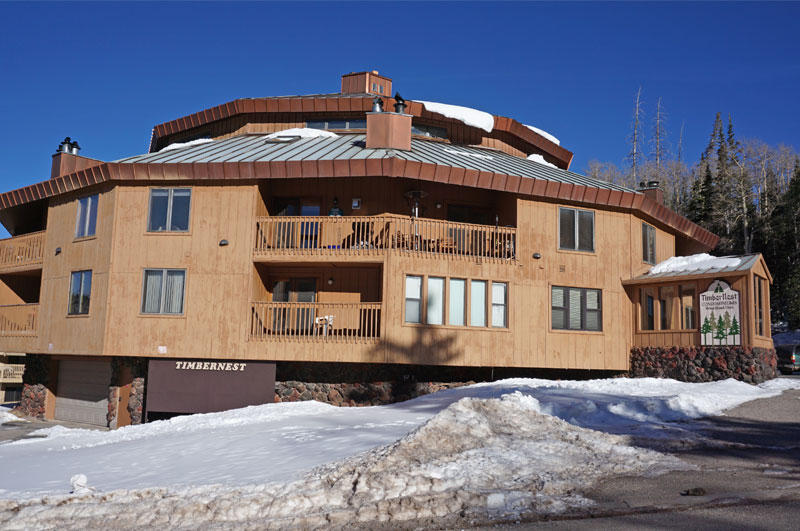 Address:
117 E. Steam Engine Drive
Brian Head, UT 84719
12. Sawmill Creek Condominiums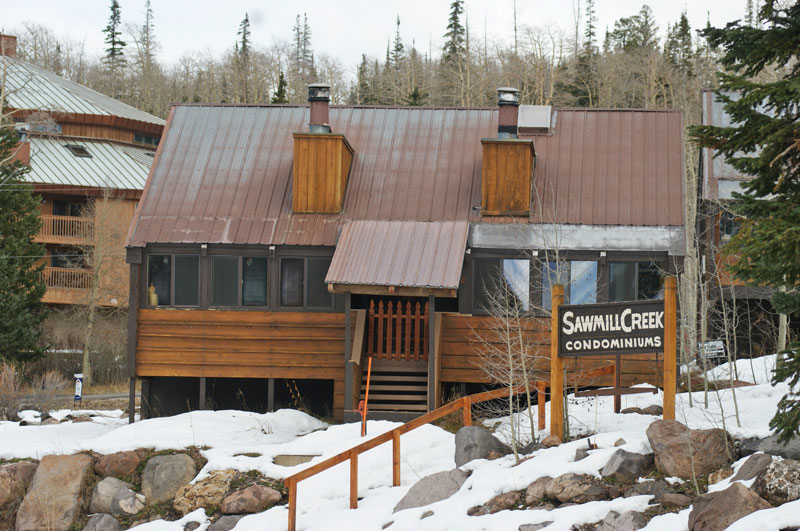 Address:
101 S. Village Way
Brian Head, UT 84719

13. Alpine Condominiums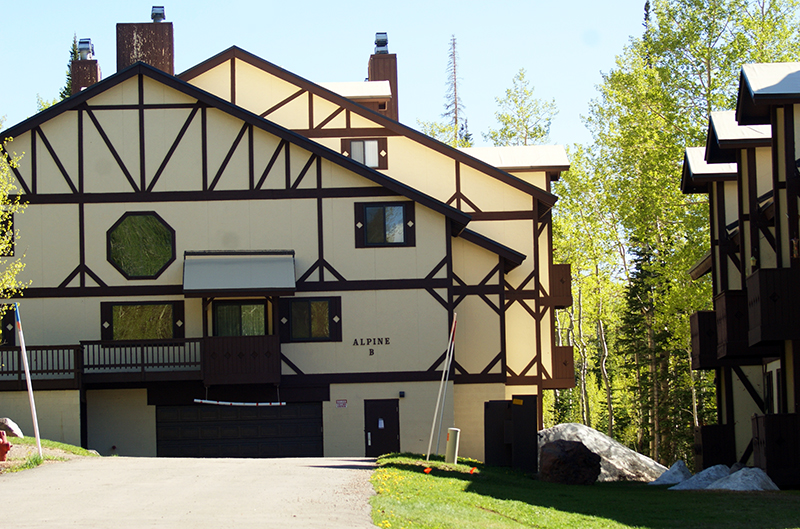 Address:
102 S Alpine Ln
Brian Head, UT 84719
HOA fees at the Alpine condos cover the property manager, snow removal, water, maintenance of the public areas, and firewood. Onsite laundry facilities are available.
14. Cedar Village Condominiums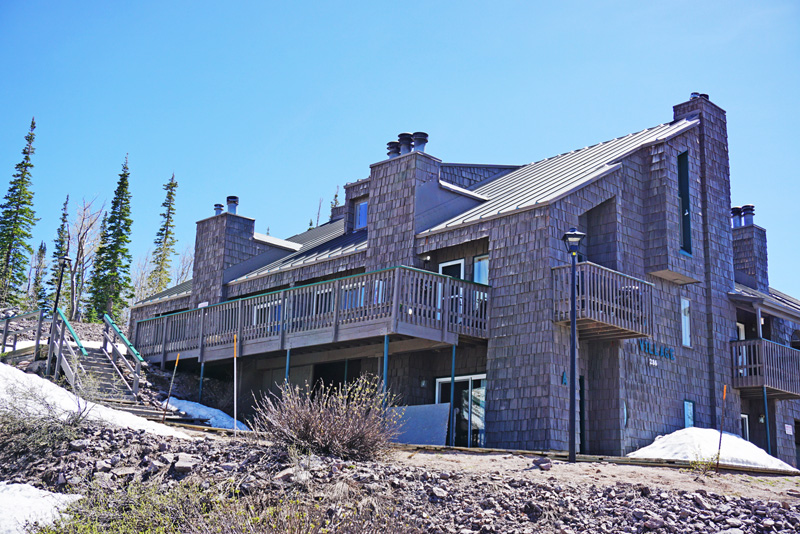 Address:
286 W Eagles Roost
Brian Head, UT 84719
15. Aspens Condominiums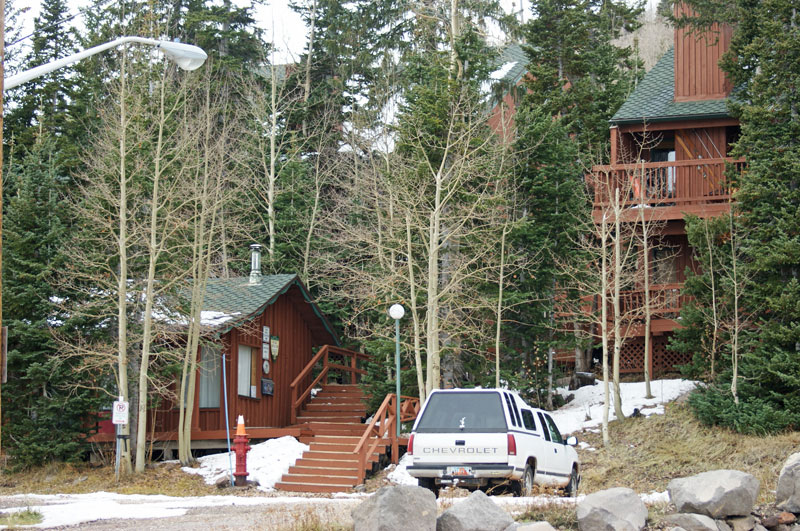 16. Brian Head Village Condominiums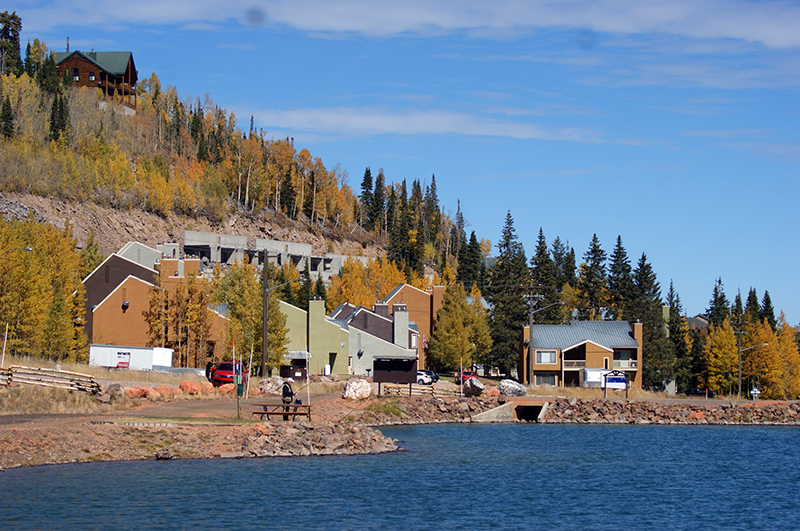 Address
356 South Highway 143
Brian Head, UT 84719
Brian Head Village Condominiums are within close walking distance of the Giant Steps ski lodge in Brian Head, Utah. This complex was founded in 1972. This complex has 17 buildings and a total of 84 units, many of which are available for vacation rentals during the summer mountain biking season and winter ski season.
17. Brianwood Condominiums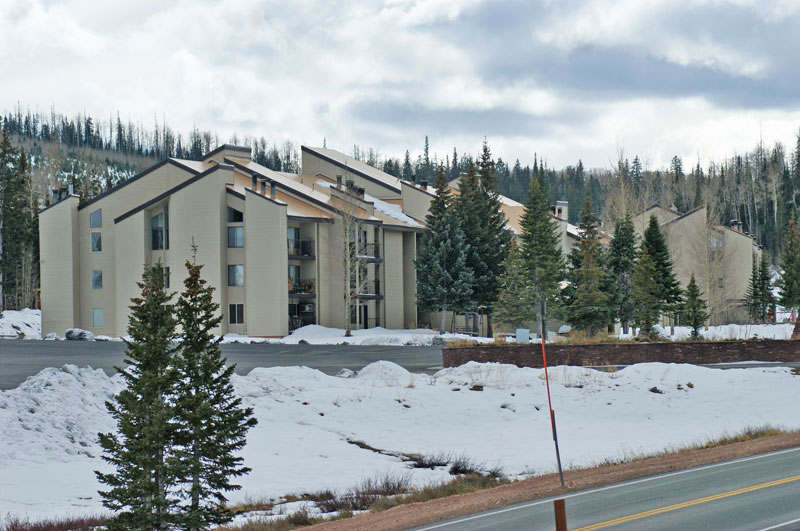 Address:
385 S Vasels Rd
Brian Head, UT 84719
18. The Evergreens Condominiums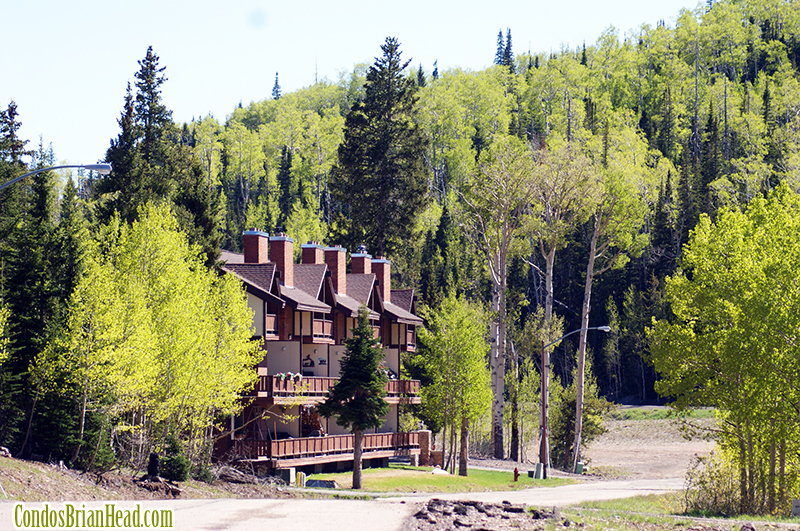 Address:
561 S Vasels Rd
Brian Head, UT 84719
19. Kristi Condominiums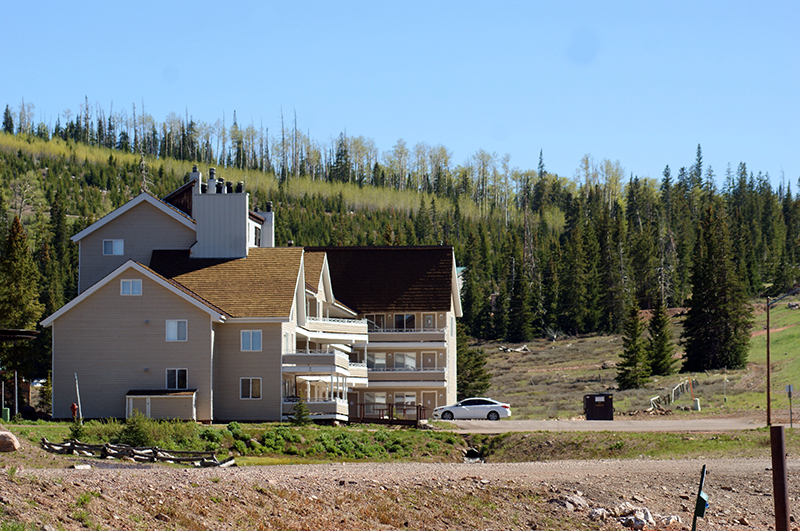 Address:
681 S. Highway 143
Brian Head, Utah 84719
Kristi condominiums offer you an excellent location in Brian Head. These units are located within easy walking distance to chair lifts 1 and 8. It's only about a quarter of a from these condos to the tubing hill and Giant Steps Lodge.
20. White Bear Condos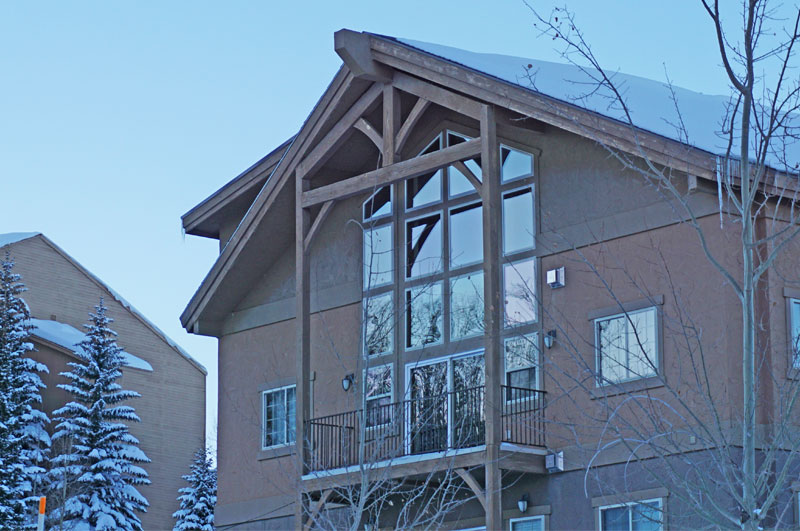 74 Ridgeview St
Brian Head, UT 84719

21. Condos at Cedar Breaks Lodge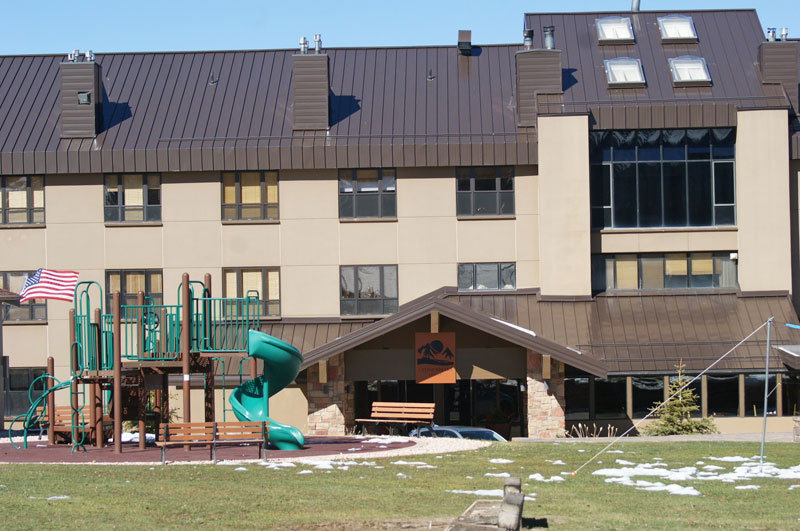 223 Hunter Ridge
Brian Head, UT 84719


Diamond Resorts currently operates Cedar Breaks Lodge as one of the properties in their network. However, our understanding of the situation is that a minority of the units at Cedar Breaks are privately owned condominiums.
These all the options we're aware of for condos in Brian Head, Utah. If you'd also be interested in checking out Brian Head town homes, scroll down to see them. Brian Head typically also has some cabins available for sale and for rent, plus vacant lots available for sale.
Brian Head Town Homes Crooked River Town Homes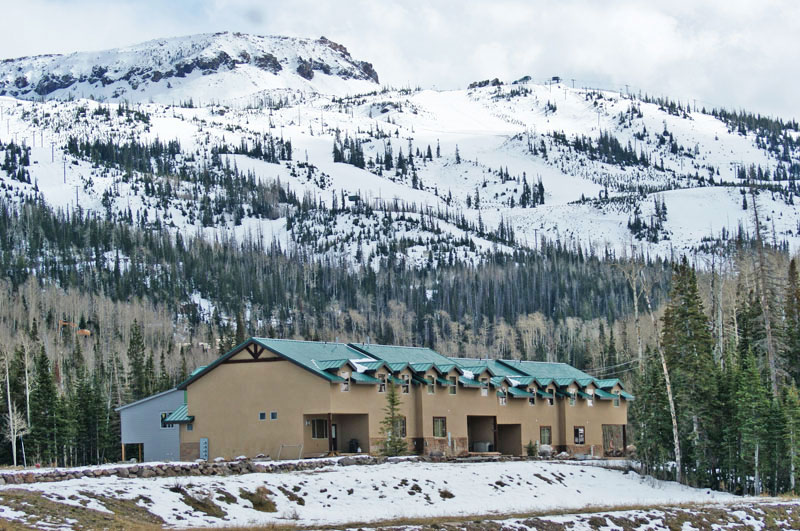 Parkside Town Homes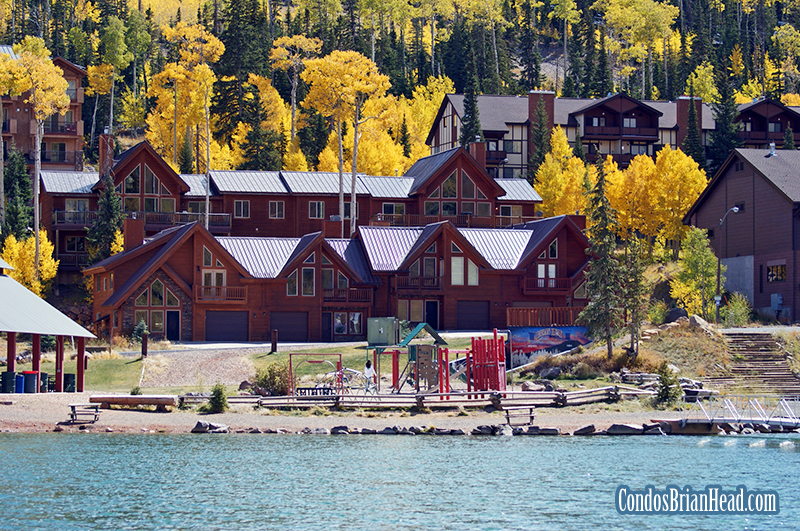 Address
508 S. Vasels Rd
Brian Head, UT 84719


This page was last updated on 09-26-2023.